Access Manager
Hostinger provides you with a new feature to grant access to your account to another person, for example to a developer!
Here is what you should know about it - you can set the access level to control what a person can do to your account once they're logged in.

We have 2 access levels:
1. You can allow only service management*.
2. You can allow service management AND purchases by using added payment method**.
* - Person with allowed access will be able to make changes to your account, such as change and modify your VPS, shared hosting FTP files, website, add subdomains/parked/addon (add website) domains and change other settings in your hosting control panel.
** - Person with allowed access will be able to make the above changes AND, as an addition, purchase new hosting accounts/domains with the already added payment method.
What you cannot do in the managed account (if you take control of the account, e.g. as a developer):
1. Manage or add payment methods to managed account.
2. Invite others to access account.
3. View or change profile information (for example change email, name, phone, address).
4. Do these tasks with domains: transfer or unlock domains, change contact info, manage auto-renew, sell domains in the aftermarket, respond to a domain buy service, or manage backorders.

Once you have granted your access to someone, you will see the following yellow lock icon at the top bar: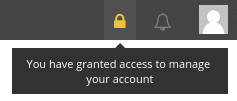 How to grant access?
1. Login to your Hostinger Profile.
2. Hover onto your profile picture and click on "Access Manager".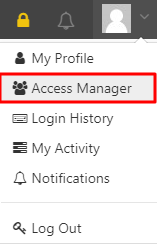 3. Fill in the email address and select one of the 2 options.
1) Grant Access - allows you to grant access to someone.
2) Request Access - you can request someone to allow you to enter their Members area.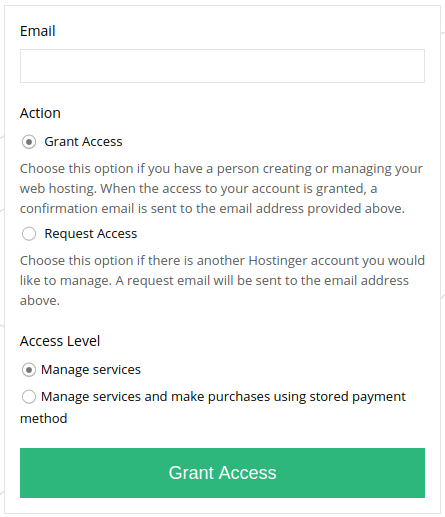 Already filled in? Click on the big button with "Grant Access" text. The person will receive an email, once he will confirm it, he will be able to access and manage your account.
Keep in mind that list of accounts that you can access and people who can access your account (developer details will not be shown) can be seen in the same page Profile -> Access Manager.